Home & Synopsis/Status Reports Purpose & Method Who was Carl Sharsmith? Why name a Yosemite feature for Carl?/Origin of Proposal Which feature should be named for Carl? How can a feature be named for Carl? SUMMARY OF SUPPORTING STATEMENTS Contacts/Resources Webmaster Search Form
Use of this site means you accept its terms and conditions.
97) SUPPORTING STATEMENT OF DWIGHT F. RETTIE.
Newport, North Carolina. Former National Park Service representative to Board on Geographic Names 1981-1986; former Chief of NPS Office of Policy Development; former Deputy Chief NPS Park Planning and Development; former Executive Director National Recreation and Park Association; former Director of Public Affairs; Office of the Commissioner, U.S. Fish and Wildlife Service; former Director of Information, Bureau of Land Management; author of Our National Park System: Caring for America's Greatest Natural and Historic Treasures. Click for full resume of Dwight Rettie.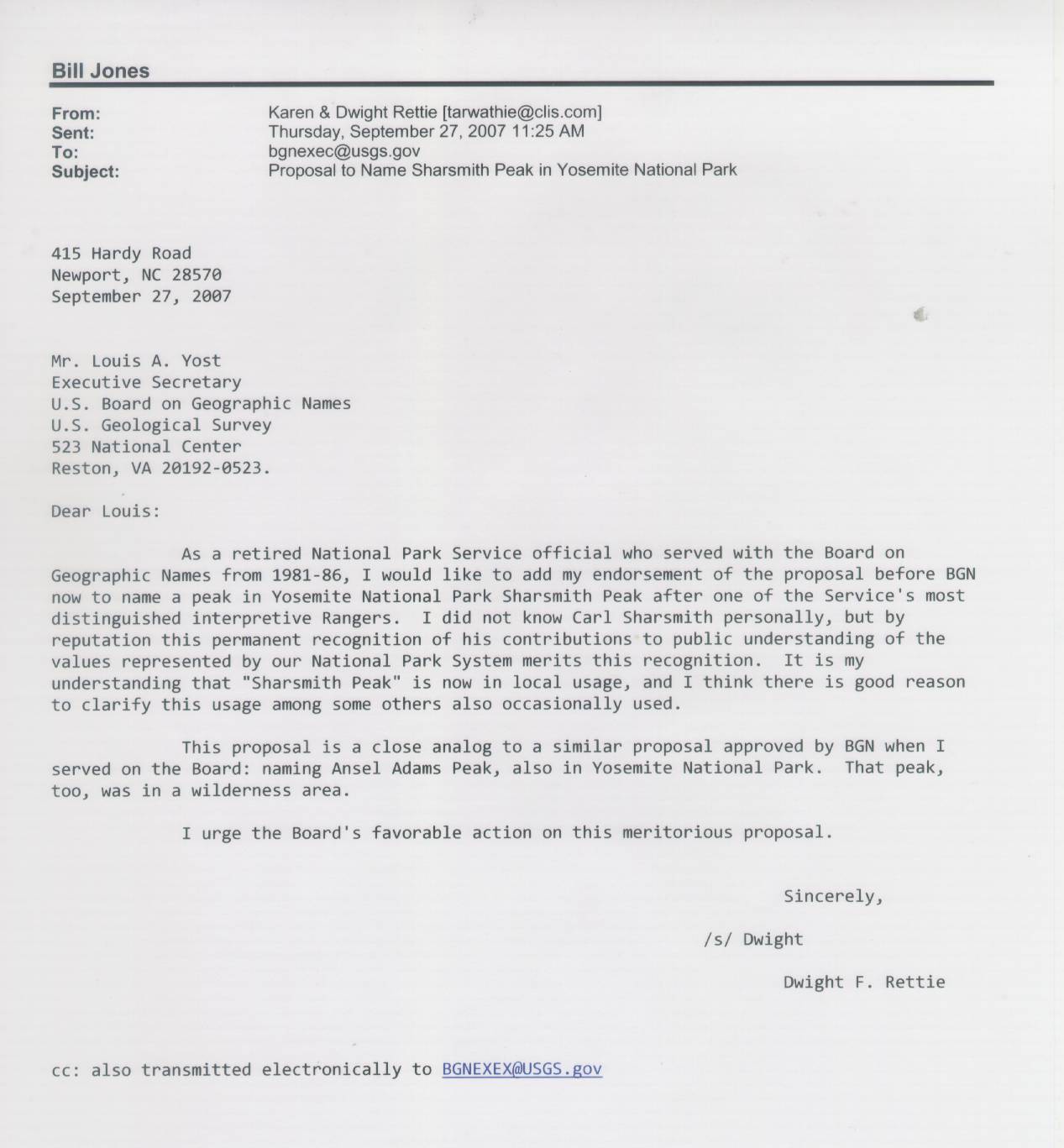 Prior Supporting Statement--96
Next Supporting Statement--98
---
This "Supporting Statement--Rettie" last modified 09/28/2007: \name4carl\n4ctest97.htm.
Home & Synopsis/Status Reports Purpose & Method Who was Carl Sharsmith? Why name a Yosemite feature for Carl?/Origin of Proposal Which feature should be named for Carl? How can a feature be named for Carl? SUMMARY OF SUPPORTING STATEMENTS Contacts/Resources Webmaster Search Form