Home & Synopsis/Status Reports Purpose & Method Who was Carl Sharsmith? Why name a Yosemite feature for Carl?/Origin of Proposal Which feature should be named for Carl? How can a feature be named for Carl? Summary of Supporting Statements Contacts/Resources WEBMASTER Search Form
Use of this site means you accept its terms and conditions.
94) SUPPORTING STATEMENT OF ANSEL ADAMS (Deceased 1984).
Ansel Adams is a nationally known landscape photographer with emphasis in his work at Yosemite and other national parks. While active, Ansel provided photographic workshops in Yosemite Valley at Best's Studio, now named Ansel Adams Gallery. Ansel was a long-time member of the Sierra Club Board of Directors and a wilderness advocate.
An 11,760 foot peak on the southeastern border of Yosemite National Park is named for him, as is an adjacent wilderness area in Sierra National Forest. (Mount Ansel Adams is within wilderness, sitting between the Yosemite Wilderness and the Ansel Adams Wilderness. The mountain was named for Adams in 1985, and the former Minarets Wilderness, established in 1964, was renamed for him in 1984. The Yosemite Wilderness was legislatively established in 1984. Thus, in 1985, when Mount Ansel Adams was named it was already within designated wilderness, which would be in opposition to the current wilderness naming policies of the U.S.G.S. Board on Geographic Names and the National Park Service, but this policy may not have existed in 1985. It is also true that the policy of waiting 5 years after a person's death to name a feature for them was set aside, for Adams died in 1984 and Mount Ansel Adams was named in 1985.)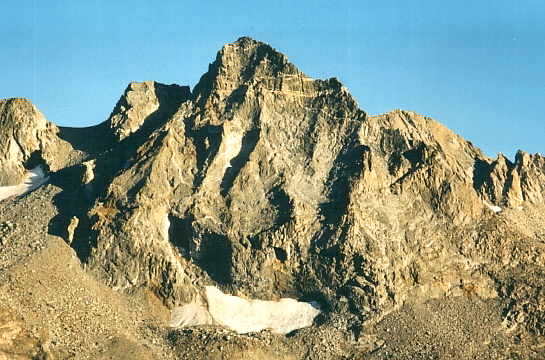 North face of Mount Ansel Adams, photo by Steve Eckert, from Climb-O-Rama 2002: exits, used with permission.
It is reported that Ansel Adams and Dr. Sharsmith had quipped with each other about who would have a peak named for him first, as both were considered for this honor during their lifetimes.
According to Ansel's son, Dr. Michael Adams, writing on August 29, 2007,
"I am sure that my father and mother, Ansel and Virginia Adams, who were also friends [of Dr. Sharsmith] for many more years than I, would support the naming of a peak for Carl."

Prior Supporting Statement--93
Next Supporting Statement--95
---
This "Supporting Statement--Ansel Adams" page last modified 10/17/2007: \name4carl\n4ctest94.htm.
Home & Synopsis/Status Reports Purpose & Method Who was Carl Sharsmith? Why name a Yosemite feature for Carl?/Origin of Proposal Which feature should be named for Carl? How can a feature be named for Carl? Summary of Supporting Statements Contacts/Resources WEBMASTER Search Form